Scuba Diver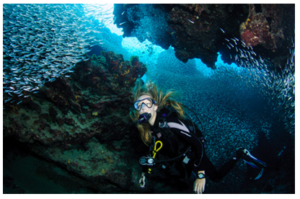 You have seen the pristine beauty of Lake Tahoe's crystal blue waters, the cascading of the majestic Sierra Nevada Mountains and the snow covered ski slopes, but if you have not enjoyed the underwater world that waits in the depths of the most beautiful lake in the world you should go because, there are dozens of awesome dive locations in Tahoe: Diver's Cove at Sand Harbor, The Wall at Rubicon Point, Hurricane Bay, Emerald Bay and Carnelian Bay. Tahoe's water is so clear that visibility can be over 100′ much of the time, with schools of Trout, Salmon and Mackinaw there is plenty of underwater life to enjoy as well as diving wrecks and geological vertical drops that are sweet for wall diving.
Scuba diving in Lake Tahoe is an experience that everyone should try at least once in their lifetime, so don't miss out on the great Lake Tahoe scuba diving that awaits all enthusiasts.
The opportunities of scuba diver come in a wide variety here in Lake Tahoe California because specifically in Adventure Scuba Center, if there is water, you can dive. There are many scuba dive site, lakes, the ocean, they all have their own attractiveness but in this zone Lake Tahoe is the best. Divers take pictures, enjoy the tranquility of the underwater world just "floating" around, look for lost objects, and engage in biology, archaeology or other.
Diving is a vehicle allowing you to travel to a new world. Within that world there is a whole new range of activities available. Each activity has its own challenges. Diving courses are designed to train you to master those challenges, for example: Adventure Scuba holds Basic Open Water Scuba Diving Classes twice a month during the summer months and once a month during the winter months at Lake Tahoe.
It is so interesting all classroom sessions are held at Adventure Scuba in our classroom. Pool sessions are held at either the City of Reno's Northwest Pool, Carson City Aquatic Center or a private indoor heated pool depending on the class size. Students meet at Adventure Scuba for the pool sessions to pick up gear and added instruction, then make their way to the pool. And the most important, you can be confident and secure, because Adventure Scuba Center has a talented group of professionals with lots of certifications and they know all your concerns.
As you may have noticed Scuba Diver at Lake Tahoe is one of the wonderful advantages of living or visiting in this area.  You have a wide choice of Scuba diving sites around the lake.  Sand Harbor is a great scuba diver site.  It ranges from beginner diver to advanced.  Sand Harbor has a very slight depth increase for several hundred yards, then it drops off.  You will see some very large rock croppings, an old bridge in the cove and some small swim through.
It is a favorite place for scuba dive training dives but, it is consider Meeks Bay on the California side of the lake, is a very nice scuba dive site too and other people say that One of the best scuba dive sites on the lake is Rubicon Wall at DL Bliss State Park. A way to know which the best is visit Adventure Scuba Center in Lake Tahoe California.
Lake Tahoe is one of the largest, deepest, and clearest lakes in the world. Its cobalt blue appearance, spectacular alpine setting, and remarkable water clarity is recognized worldwide. The Lake's earliest inhabitants, the Washoe Tribe, demonstrated a deep respect for the fragile environment that was their home and still revere this magnificent place. Recreational opportunities and scenic vistas have made Lake Tahoe a top national and international tourist destination.
But Adventure Scuba Center  not only offers education and guidance also provides equipment, travel & trip and monthly they enjoy to do fun dives with persons who want to discover the wonders found in lake Tahoe California.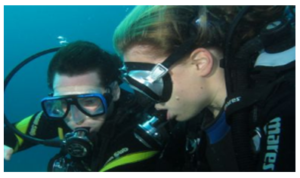 Scuba Diver Center is a PADI 5 Star IDC dive facility. In the popular Lake Tahoe to dive, we are the dive company reliable and secure into the lake. Our goal is to provide the best instruction, the best service, and the best equipment for our clients. With a well experienced staff, we provide exceptional instruction and student to instructor ratios that are often two to one or better, thus providing exceptional attention for our students.
For California´s divers, lake Tahoe  is one of the most popular diving destinations, offering an array of full-service dive shops, dedicated charter boats, and of course, great diving.
At an elevation of 6,225 feet, Lake Tahoe is well known as a favorite winter destination for snow lovers, boasting 7 ski resorts with 535 groomed trails and 125 lifts.  During the summer months, it's a popular destination for camping, hiking, mountain biking, boating, and now, thanks in part to a new dive charter boat, scuba diving. It is in Northeastern California where one of nature's most spectacular and scenic wonders lies.