Boat Towing Company Lake Tahoe California
B.J'S Barge Service
"How it Started"
B.J.'S Barge Service was started by accident, Literally by Accident. It was June 19, 1981, when B.J.'s 16 foot Century Resorter "Early Times" was broadsided by another boat and sank. Lake Tahoe is a deep lake and fortunately Early Times sank in 45 feet of water. B.J. took this unfortunate event as a new calling and decided to salvage it himself. Being his first Boat Salvage he had to incorporate the help of his boss Herb Obexer and Herb's equipment. He powered up an old WWII Army Duck Amphibian with a Garwood Wench and an A-Frame crane on it and set out to do his first Boat Salvage.
---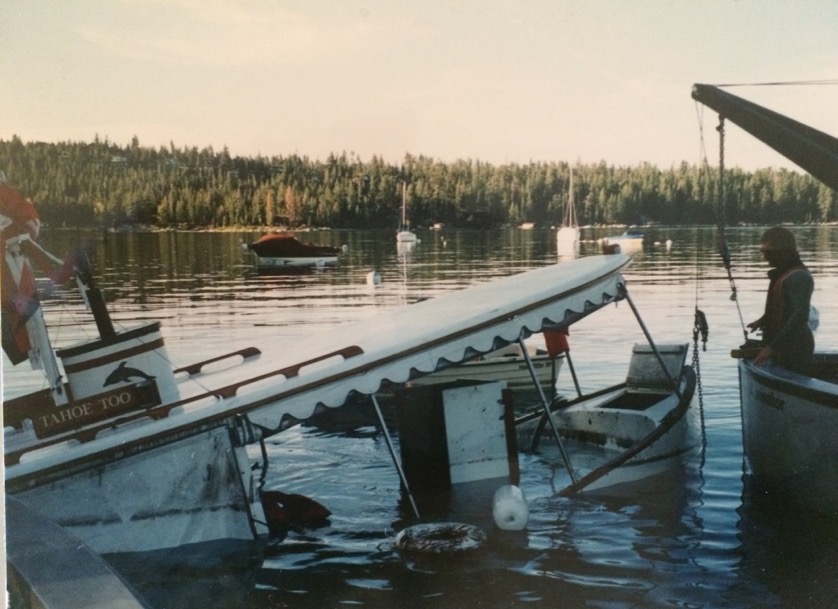 Shortly after doing his own boat salvage "B.J.'S Barge Service" was born.
---
Lake Tahoe has claimed many boats over the years, most from powerful storms others from human error. B.J.'s record for boat salvage was in 1988 when 55 boats sank from Rubicon Bay to Tahoe City. From that storm 23 boat salvages were recovered in one day by B.J.'S Barge Service, This is still the leading boat salvage record for one day.
In 2000 one of the deepest boat salvages for B.J. was a team effort when Shanghai was discovered at 400 plus feet of water.  It all started when Alstom Schilling came up to Tahoe to test their ROV's out in deep fresh water.  B.J. was asked to set-up a mooring station for the barge they were going to work off of.  Late one evening a strong wind came up blowing the barge off its station.
The wind woke up B.J. and his family and they noticed the barge was not in sight. Worried B.J. called Matt Daniels who said that not a breath of wind was blowing in Tahoe City.  On Matts way over to Homewood he saw downed tree branches in the road and was really surprised at what he was seeing because they're was no wind just 5 miles away. Once Matt showed up he and B.J. took a boat out to the barge to assess any damage. B.J. insisted that they use the small ROV known as the Geek to check and see if the anchor blocks and mooring chains were tangled.

As the Geek made its way around in the deep water it traveled around an old rock crib and B.J. saw a big mackinaw and said, "Follow that fish!" that fish took them to the resting spot of Shanghai. The guys were full of excitement as they controlled the Geek around their treasure. Now what to do with their discovery. First they had to get permission to raise it, to do that they needed the original owner or family. Edna Obexer confirmed that it was indeed one of their boats.
Now, for some boat recovery action. It was time to devise a boat salvage plan. While preparing a duck BBQ on the barge for the boat recovery team, B.J. was brainstorming engineering ideas on how to raise Shanghai. Once the plan was settled on, the boat salvage was in progress, lots of anticipation and excitement filled the team.
The sounds of whooping and hollering were heard throughout Homewood in the wee hours of the morning as the 25 foot 1890s steam launch broke the surface of the water and came into view for the first time in so many year. This was one of the most exciting boat salvages for B.J. Shanghai was owned by the Obexer family and scuttled sometime in the late 30's.
Another deep water boat salvage that B.J. did was a ski boat in 450 feet of water at Marla Bay.  Not as thrilling as Shanghai but it was a boat salvage and boat salvage is always exciting. When doing deep water boat recovery a ROV (Remote Operated Vehicle) is used. Some take hours or even days to find and some are never found.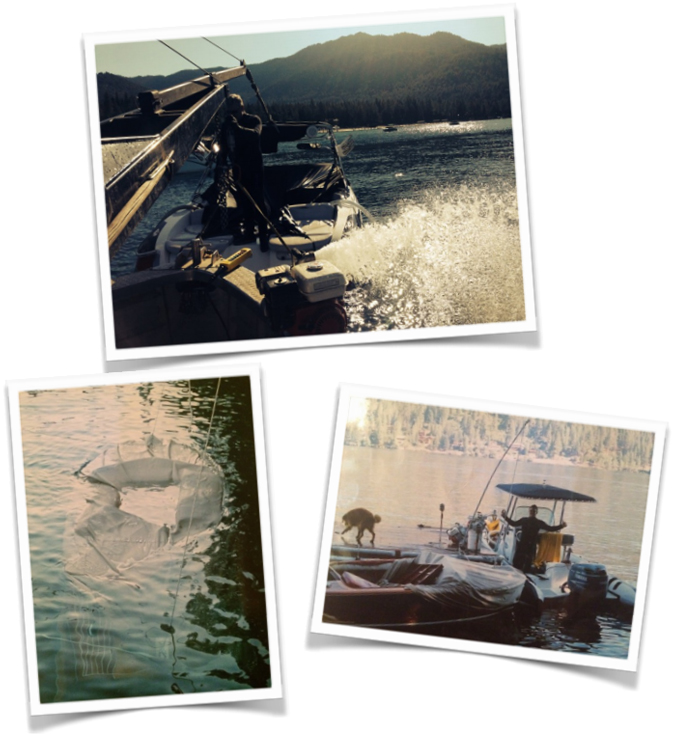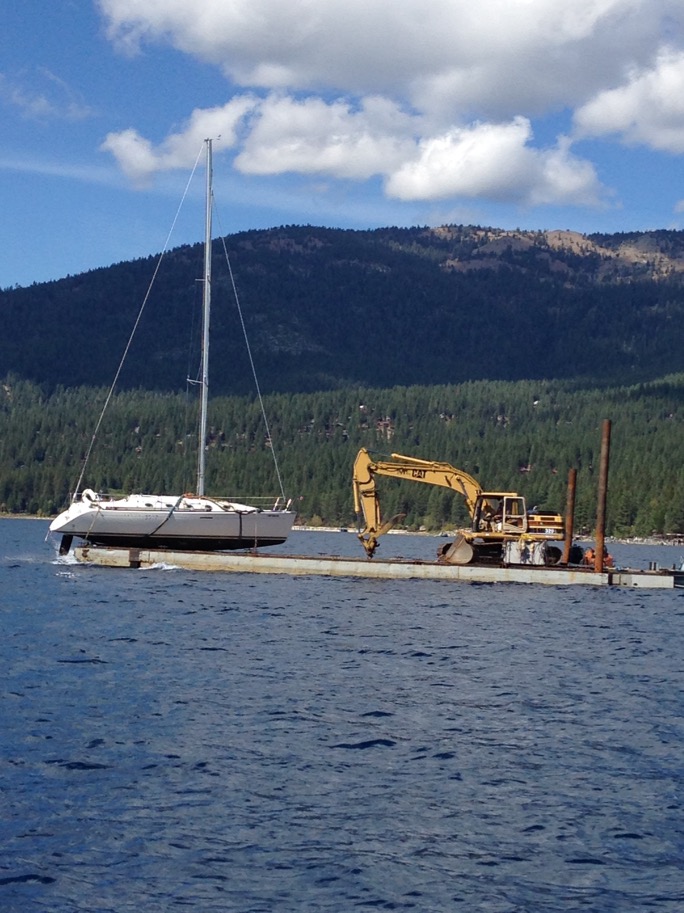 Boat Recovery
When the keel was ripped off a 40 foot sailing yacht it was not safe to float and be towed and had to be placed onto a barge for transport to Tahoe City Marina
Boat Salvage is not the only salvaging to be done at Lake Tahoe although boat recovery is the most frequent of them all. Marine salvage can be a boat salvage, or keel from a sailboat, prop that has fallen off, a ripped off drive, deck cleats, outboard motors, these are just a few of the items that may be recovered from the depths of Lake Tahoe.B.J. started the bobbing bow award after Howard Turner know for organizing the Over the Bottom Race and his great singing, sank his wooden Chris Craft "Chris Miss". Howard had it fully restored to pristine condition, then entered it into the Concours d'Elegance show and didn't win or place.  B.J. knowing all the work that was put into the boat after being salvaged several times felt it only fitting that Howard was to be the recipient of the Bobbing Bow Award.
The smallest item that B.J. has recovered was a 2 karat diamond that had fallen out of the setting. The diamond fell into Obexer's harbor where the bottom is very silty.  He was given an approximate spot where it may have landed, and into the water he went. After several minutes he resurfaced with the 2 karat diamond. Sunglasses are a regular item along with wallets to be recovered.
A gold wedding band was recovered in Emerald Bay just a couple days after the couple wed. When B.J. was able to recover the priceless wedding band it was tears of joy and relief for the Bride that her groom would not be without his ring.
No boat salvage or boat recovery is to small and as stated above the smallest of items can be recovered with the right equipment, good instinct and years of experience. B.J. loves a challenge when all seems lost he always seems to have a way of finding it.
B.J.'s son Brock has been putting in his time on Aluminator and helping
with boat salvage and boat recovery. Click link to view Brock's boat salvage video http://bjsbargeservice.com/marine-salvage-lake-tahoe-california/from-the-depths-video-lake-tahoe-california/. He also has a knack for finding small items lost overboard while boating on Lake Tahoe, He recovered a wallet for a woman in distress from the loss of her ID which she was in need of to board her flight the next morning.
What Is a Boat Salvage or Boat Recovery
When a marine vessel, or boat is submerged in water and needs a professional marine salvager, or a boat recovery vessel to come and raise and pump out the boat. B.J.'S Barge Service will arrive on scene promptly after owner has called and given permission.
What we do;
Assess the marine vessel/boat and surrounding area.
Prepare diver and pumps, lifting straps/rigging and miscellaneous tools
Diver in water assesses marine vessel or boat underwater
Begin the attaching of lift bags, nylon lifting straps/bridle
Lift marine vessel or boat up with Work Boat Crane
Once vessel breaks surface of water pumps begin to dewater boat
Diver secures miscellaneous items on marine vessel/boat
Diver collects debris from the bottom of lake ( outdrives, docking lines, seats, swim platforms etc….
Marine vessel/boat is than towed to the nearest marina
Marine vessels or boats need to be salvaged or recovered when they sink on the mooring or break away from the mooring in a storm.  A Marine Vessel/Boat is considered sunk when the dip stick is wet or the engine is wet.  Hard Aground is just that, up on the beach no water in the marine vessel / boat, no holes in the hull, and minimum sand in the marine vessel/boat.