B.J.'s Barge Service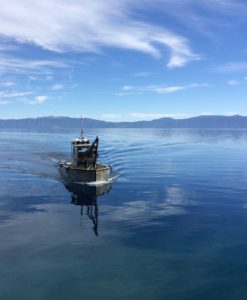 B.J.'S Barge Service is owned and operated by Capt. Brian Johnson , and has been delivering results since we started the business in 1982. We have all the equipment and expertise to perform Boat Salvage and Buoy Installation, including Inspections and Maintenance, Lake Water Pumps and Professional Diving. B J's Barge Service holds a General Engineering License #484520 according to the California license board. Licensed — Insured — Certified.
Vessel Aluminator is the second work vessel since starting B.J.'S Barge Service. The first was Vessel Super Boat which retired in 1993 and now resides in the Delta.
Aluminator is a one of a kind custom Work Vessel Built especially for Brian by Jim Betts along with Brian's expertise in the buoy and salvage Business. Aluminator is docked at Obexer's Boat Co., Inc. In Homewood, Ca.
Give Us a Call
You can contact us at 530-525-5129. Or you can send us an email to the following address bjbarge@att.net
Our Location
You can find B.J.'S Barge Service in Lake Tahoe.